For a while now the FOSP directors have been discussing doing some work on the Bedwell Trail, the portion that connects Bedwell Lake to the head of Bedwell Sound on the west coast of Vancouver Island. In September some of us met with Jessie Moore, Strathcona Park Supervisor and Aaron Miller, B.C. Parks Section Head for the Central Coast and North Vancouver Island. We presented our proposal for clearing and marking the trail this coming summer and working on creek crossings in 2025. They agreed to our proposal so we are planning a work party next summer from Thursday, August 15 – Wednesday, August 21st to brush out the trail and install additional markers to make it easier to follow. After this is done parks' staff will hike the route and look at what needs doing to improve creek crossings. These will be worked on in the future.
We are hoping some of you will volunteer to help with this project. It will be lots of fun and working to improve this access will be very satisfying. Read on to find out more.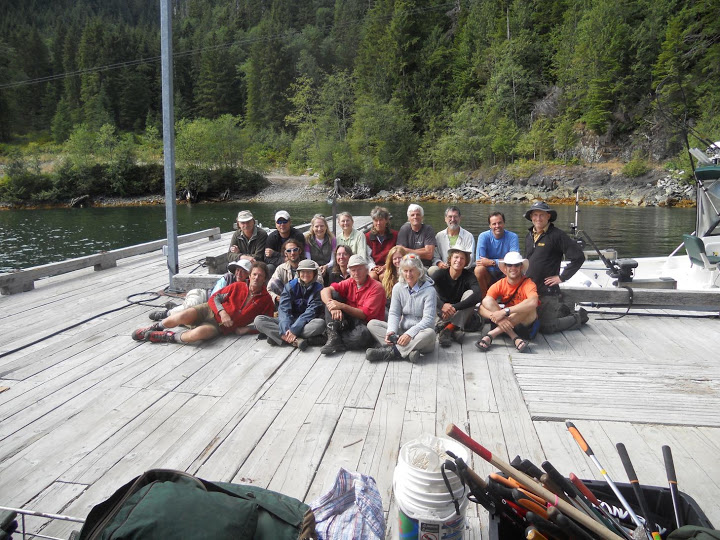 The plan is to take workers to Tofino on August 15th then to take a water taxi to the head of Bedwell Sound. Then the group will hike up the valley and camp at the Gayle McGee suspension bridge which FOSP previously built. The next 5 days will be spent working our way up the valley to camp near Bedwell Lake. The last day the party will hike out to the Jim Mitchell Lake road to be picked up and taken back to Campbell River and the Comox Valley. This time of the year is best to hike this route as the creek crossings have dried up some and the days are still long enough.
All transportation expenses will be paid for by FOSP. Tools will also be supplied. Volunteers need to be reasonably fit and used to wilderness travel. They need to bring their own personal equipment and food as on any hike. This includes work gloves. As we get people committed we can plan more detail such as sharing tents and so on. We'll have a meeting ahead of time to get together and finalize details. This can be a hybrid meeting, in person and via zoom for any one coming from another commuity.
For more information and some photos and maps check out Karl Steveson's blog from a few years ago. It describes in detail hiking from Bedwell Lake to the ocean, the opposite direction from what we're planning. We will be hiking uphill so as packs get lighter the going gets easier. The trail description is down the page a bit at this link:
Bedwell Trail Guide | Karlrobinstevenson's Blog (wordpress.com)
We hope you can help out. To volunteer please email jsmilne64@shaw.ca and we'll be in touch. We already have a couple of volunteers interested so we're on our way.